Where do you start? What type of commitment does this mean?  Don't you need a lot of money to ride horses? Take a deep breath.   Let us help guide you in what you need to know and how to get started.
Ivy Rock Farms has been providing horsemanship and riding lessons for almost 30 years here in Orange County and they know a thing or two about getting kids (and adults) started in the horse world.  They also know how to guide newbies safely through this unique and exciting world.  "Horses are a passion," said Shelley Gray owner of Ivy Rock Farms. "But in this day and age with all the options of activities, you want to be sure this isn't just a phase for your child.  If your child has watched every horse movie there is or forces you to pull over every time you see a police horse or drive by a farm – chances are good your child has 'it'.  The passion that never goes away.  Get them involved because that desire to be around and learn more about horses doesn't go anywhere.  Parents especially those that are non-horse people often think riding is just a pastime so investing in lessons is frivolous.  This is so far from the truth.  Horses provide so much more than just a comfy seat hiking in the woods or clearing jumps in the arena.  They offer life lessons like responsibility, patience, confidence, the value of hard work, humility, and the fact that things don't always go as planned."
But what if your child just likes horses and wants to just be around them?
"The nice thing about farms like ours is that there is no commitment or pressure for you to sign up for more than just a lesson.  You can love horses and just want to come and do a horsemanship lesson – learning to groom lead and interact with horses.  Or you can just come to try riding once or twice.   There is no wrong way to get involved or standard you have to follow."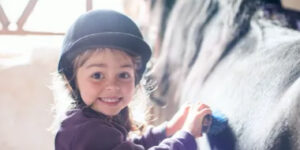 Places like Ivy Rock Farms in New Windsor, NY can be found around the world.  They offer lessons for beginners young and old and also in a variety of disciplines like Hunt Seat, Western, or Dressage.   You want to go to a place you feel comfortable in and that is willing to take the time to educate.  For as many of the educational horse facilities there are in the world, there are equally as many of the types of barns that are not willing to guide you.  "Go with your gut and always ask questions," said Gray.  "Be upfront with the owner or instructor with what you or your child have as goals.  If you tell them you are on a budget and really just want to pleasure ride and then they offer show packages and leasing opportunities off the bat then chances are good you are not in the right place.  Same goes for if you want to pursue horse showing and competition and the barn you go to doesn't participate in any shows yearly.  You are probably not in the right place."
Horses and horseback riding can be costly however comparatively speaking you certainly gain so much more than any other sport.  Also riding is something that can be done almost at any age, not like sports such as soccer or baseball where, as you get older you just can't play.  Just look at Queen Elizabeth at 92 yrs old and she still rides daily.
Riding lessons range from $40 -$65 depending on the length of time and whether or not the lesson is private or group.  Younger riders can be exposed to riding with Pony Lessons for as little as $1 a minute.  Ivy Rock Farms also offers horsemanship lessons for young students who aren't sure about riding just yet but want to learn how to communicate with horses from the ground.
At the end of the day exposing the animal lover in your life to horses is one of the greatest gifts you can give.
Guest Post from Ivy Rock Farms.